Poetry in sandstone: The history of the Dresden Zwinger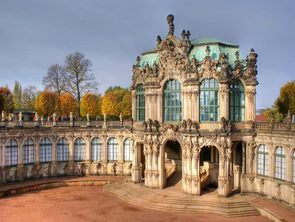 The Dresden Zwinger is one of the most imposing buildings of Baroque. Authority and initiator in the planning and implementation was August the Strong, Elector of Saxony and King of Poland. Matthäus Daniel Pöppelmann as an architect and sculptor Balthasar Permoser as are the two outstanding virtuosos who have made the Zwinger unique. The famous engraving work Pöppelmann to his plans is still preserved.
The baroque architecture of a former fortification
The Wall- and Glockenspielpavillon each in the middle of the arch galleries, the four corner pavilions and the long gallery with the Crown Gate in the middle frame in a symmetrical system the rectangular, decorated with lawns and fountains pool courtyard. The conclusion to the north forms the Semper. As building site was the place that was once the Einzwingen the enemy between the inner and outer ramparts of the city.
A new Function for the Dresden Zwinger
Looking for a winter residence for its large collection of orange trees and other potted plants gave Augustus the Strong in 1709 his chief master builder Pöppelmann the contract to build an orangery in the Dresden Zwinger garden. Later, the system should be additionally used for festivities of the court.
The Festival Baroque culture not only served as the amusement and entertainment of court society, but primarily as a way to represent wealth and sovereign power.
Finale of Baroque conversion
1712 Long Gallery was built in 1714, the Crown Gate. the kennel in 1719 was officially inaugurated on the occasion of the wedding of the Elector Friedrich August with the Habsburg emperor's daughter Maria Josepha. The final completion of the building to house the stately collections but closed only 1728th
Reconstruction after the Second World War
The bombing of Dresden in February 1945 the kennel was almost completely destroyed. From 1945 was rebuilt. Parts have already been in 1960 reopened. Today, the Porzellansammlung, der Mathematisch-Physikalische Salon und die Gemäldegalerie Alte Meister are located in the pavilions and galleries of the Zwinger and the adjacent Semperbuilding.
Contact
The Dresden Zwinger
VERMIETUNGSANFRAGEN (Staatliche Schlösser, Burgen und Gärten Sachsen gGmbH)
E-Mail: zwinger@schloesserland-sachsen.de
Telefon: +49 (0) 351 4383703 12

BESUCHERSERVICE MUSEEN (Staatliche Kunstsammlungen Dresden)
Theaterplatz | 01067 Dresden
+49 (0)351 49142000
besucherservice@skd.museum
Admission & opening hours
Admission:
Full rate 10,00 EUR
Reduced rate 7,50 EUR
Free admission to the inner courtyard and the exterior premises of the Dresden Zwinger all year round. Ticket rates for the following museums may be found on the homepage of the Saxon State Art Collections:
Old Masters Picture Gallery
Porcelain Collection
Royal Cabinet of Mathematical and Physical Instruments
Opening hours
January to March
April to October
daily: 6:00 am - 10:00 pm
November to December
The opening hours of the museums may be found on the homepage of the Saxon State Art Collections.
Subject to modifications.