A Paradise on Earth
The Dresden Zwinger still shapes the city's image to this day, reminding us of the glamorous baroque period like no other building. A courtly work of art was created between the city's inner and outer fortifications at the behest of Augustus the Strong. The architectural project, favored over a simple orangery, was carried out by Matthaeus Daniel Poeppelmann und Balthasar Permoser. The planned extension to the palace was replaced by the Picture Gallery and Semper Opera House. The museums of the Staatliche Kunstsammlungen Dresden are now waiting to be discovered at the Zwinger: the Porcelain Collection, Old Masters Picture Gallery and the Royal Cabinet of Mathematical and Physical Instruments. From spring 2021, visitors will be able to discover the multimedia Zwinger Xperience, which will immerse them in a world of festivals, parades and drama with an exciting range of panoramic projections and virtual reality stations. What's more, little orange trees give the Zwinger an extra Mediterranean charm from May to October.
Opening hours and admission prices
Innenhof und Außengalerien
Monday

06:00 bis 22:00

Tuesday

06:00 bis 22:00

Wednesday

06:00 bis 22:00

Thursday

06:00 bis 22:00

Friday

06:00 bis 22:00

Saturday

06:00 bis 22:00

Sunday

06:00 bis 22:00
Further information on opening hours and admission prices can be found here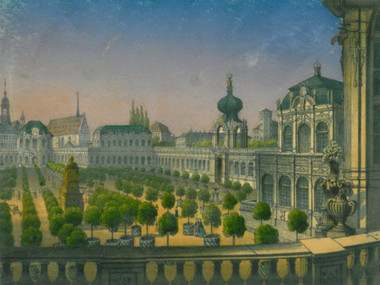 History of the Dresden Zwinger
On behalf of Saxon Elector Augustus the Strong, a world-famous piece of Baroque art of architecture, sculpture and painting was created from 1709 on. Once started as an orangery, the Zwinger soon developed into an outstanding place of court festivals and representation culture.
More Information
Site Map of the Zwinger
The Dresden Zwinger is a a complex piece of Baroque art with its Crown Gate, the Nymphs' Bath, pavilions and the Semper Wing. Please refer to our site map to see what can be found where.
More Information